Enrollment Information
HELC is a year-round program that offers all day care for children ages 6 months to 12 years. Our daily activities and program consists of a flexible schedule that has been created to provide diversity and challenge for children in all age groups. We offer a structured program for children of all ages that includes a year round curriculum. Our activities include school readiness skills, arts and crafts, games, music, outdoor play and story time. We offer a Full Time contract, which is for children present at the center over 6 hours per day, and we offer a Part Time contract, which is for children present at the center for less than 6 hours per day.
ADMISSION REQUIREMENTS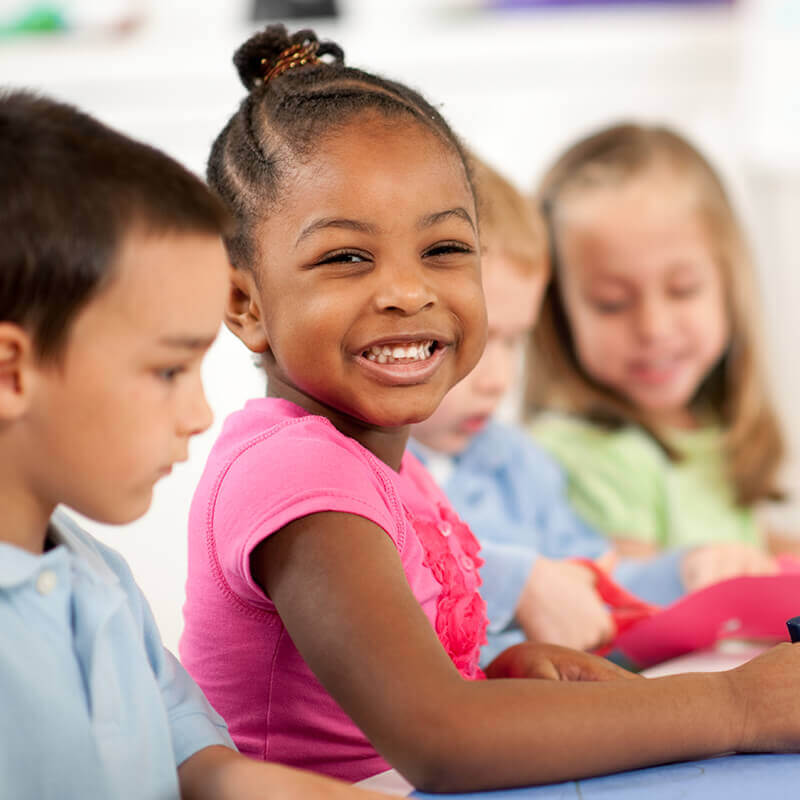 Enrollment in our program is open to all families of our community. We operate on a non-discriminatory basis. No one shall be excluded from any of our programs because of race, color, religion, disability, sex or national origin. Only the child(ren)'s parent or legal guardian may enroll a child(ren) (Proof of custody may be required). All forms provided to you must be completed before your child may attend HASLET ELITE LEARNING CENTER. All requested personal information is kept confidential. Parent's are required to update all emergency data as needed, including address, home, cell, and work numbers and individuals authorized to pick up your child. Current immunization information must be submitted to the center upon enrollment, and all immunizations must be current. HASLET ELITE LEARNING CENTER must be informed of any custody situation in advance and will request that the proper paperwork be in the child(ren)'s file. Parents will be required to comply with all state regulations and center rules as set forth in our Parent's Handbook.
Parents wishing to enroll their children in the center are encouraged to set up an appointment with the center office to come and tour the center and meet the director and their children's Lead Teacher. (Tours are scheduled at the parent's convenience, however, due to rest time and other challenges in our schedule we encourage tours to be scheduled between 9:00 a.m. – 11:00 a.m. Monday through Friday). The purpose of the informal tour is to answer any questions you might have concerning our policies and procedures and make you aware of the flexible schedule of your child(ren)s average day. At this time we will give you a copy of the parent's handbook and any forms necessary to enroll your child(ren) in the center. All children shall be considered continuously enrolled from the time of enrollment until they are formally withdrawn according to the procedure outlined in the section "VACATIONS, ABSENCES, AND WTIHDRAWL FROM THE CENTER" in our parent handbook.
Haslet Elite Learning Center works on a "Guaranteed Start Date" rather than a "Waiting List". Upon deciding that HASLET ELITE LEARNING CENTER is the place for your child(ren), you will be asked to fill out a "Guaranteed Start Date Agreement" and pay a non-refundable deposit. This deposit consists of the $75 registration fee, the $50 annual materials fee which are due each year, and the first and last week's fees (fees through Friday of the first week in attendance and fees equal to one weeks tuition at the current rate to be held for the last week your child(ren) attend or owe fees). At this time, you and the center will agree, upon the date your child(ren) will start. Prior to your first day you must bring your child's(ren's) enrollment packet(s) (one for each child) along with the following for verification: Birth certificate, and shot records. Parents are required to notify the center prior to their child(ren) withdrawing including withdrawing from being on the guaranteed start list. For more information see the "VACATIONS, ABSENCES, AND WITHDRAWL FROM THE CENTER" section in our parent handbook.
We are required by the state to have current and updated information on each child in our center. This is also for your safety. As mentioned above, we require all forms to be filled out on each child prior to their initial attendance at Haslet Elite Learning Center. Also, each year in June we will have you renew and refresh all your paper work and all forms. There will be a deadline given for compliance to this requirement and a fine may be charged if the new paperwork is not turned in on time. Failure to renew and refresh paperwork does not constitute withdrawal from the program and fees will continue to accrue according to the newest published rates including all late payment convenience fees and all other fees due. Annual registration fees and annual material fees will also be added each year at this same time. If Haslet Elite Learning Center is penalized or fined for incomplete information on one of our admissions forms or for failure to update/renew this information due to a parent's neglect, that fine will be passed on to the client responsible including an additional $50 administration fee.